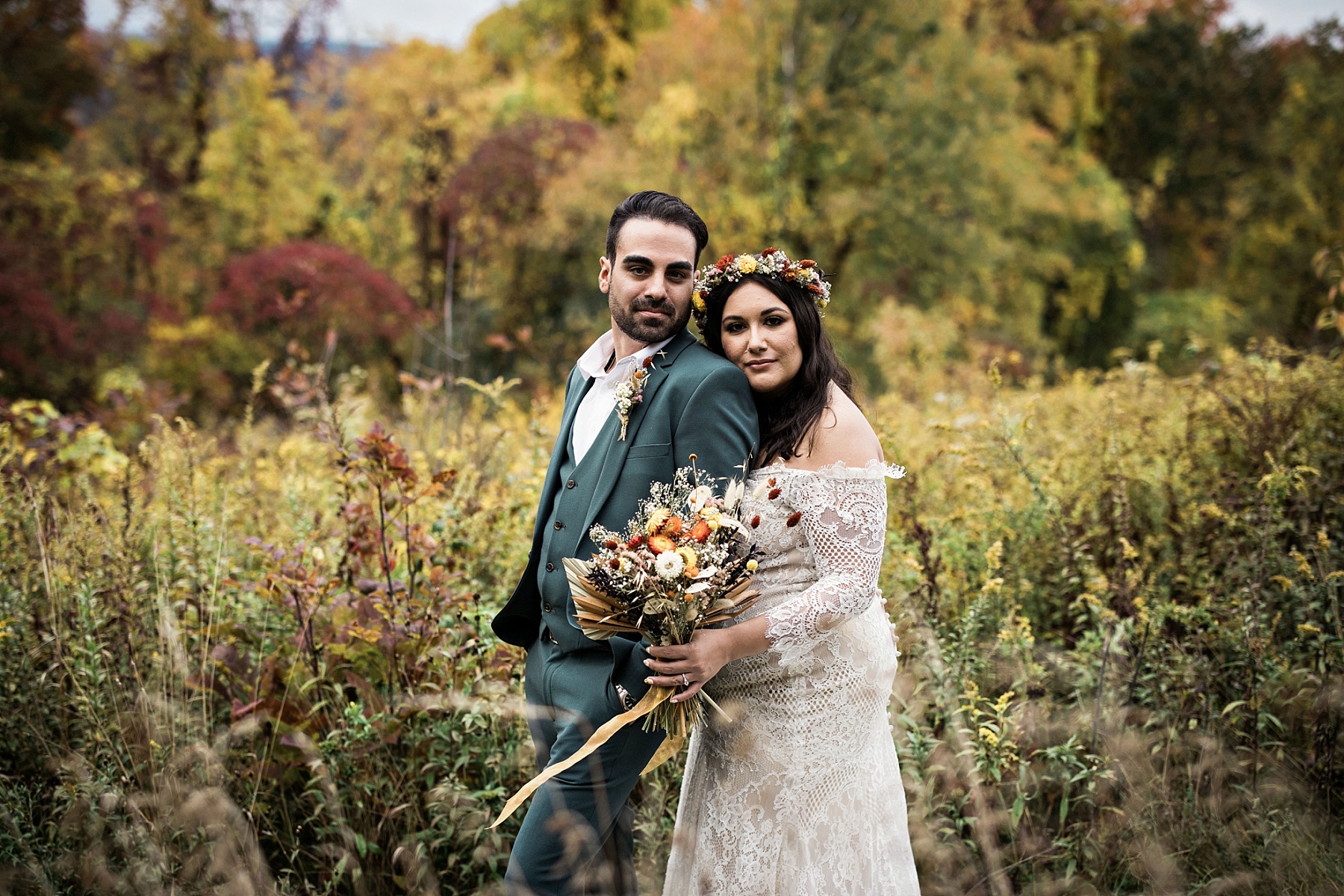 Ashley and Marc met at a bar – where Ashley happened to be tending bar. It wasn't Ashley's usual shift; it wasn't one of Marc's usual spots to hang out. After trading glances and working up the courage to approach each other, they ended up talking until after Ashley's shift ended. Sometimes, everything lines up just right, and wonderful things happen.
That serendipitous nights in 2016 led us to this fall when these two headed to the mountains to tie the knot. We met them at their AirBNB in the Shawangunks as they prepared for their big day. Ashley's stunning dress was perfectly complemented by her bouquet and flower crown of dried flowers, and we're still pretty excited about Marc's green suit – we love a colorful groom outfit!
Michele officiated their ceremony in front of the 'Million Dollar View' at Spring Farm Trailhead. With the gorgeous Catskill mountains as the backdrop, Ashley and Marc exchanged their own vows, rings, and did a handfasting and candle-lighting ceremony to signify the new chapter of their lives. Michele's ceremony told their story and incorporated their words about what makes the love they share so special.
"Ashley, Marc said that you are so funny and often weird in the very best way. He loves the way you butter him up when you want something. He can never say no. And he is in awe of your love of animals and desire to have all the animals like horses and chickens. He likes to remind you he wants to have kids, and you reply that your kids can help take care of all the animals. You keep him laughing and he loves that. "

"When I asked Ashley about the things she loves most about you, Marc, she shared that you are the kindest person she knows with a most gentle soul. Marc, Ashley loves your happiness, and how you are easy to be around and you know how to make the most out of the little things. She loves sitting in your yard or on the couch and having just as much fun as if you were out somewhere."
After their ceremony, these two popped a bottle of bubbly to celebrate and had a first dance. We're so in love with these shots of them basking in the afterglow and watching the sunset. Cheers to Ashley and Marc!