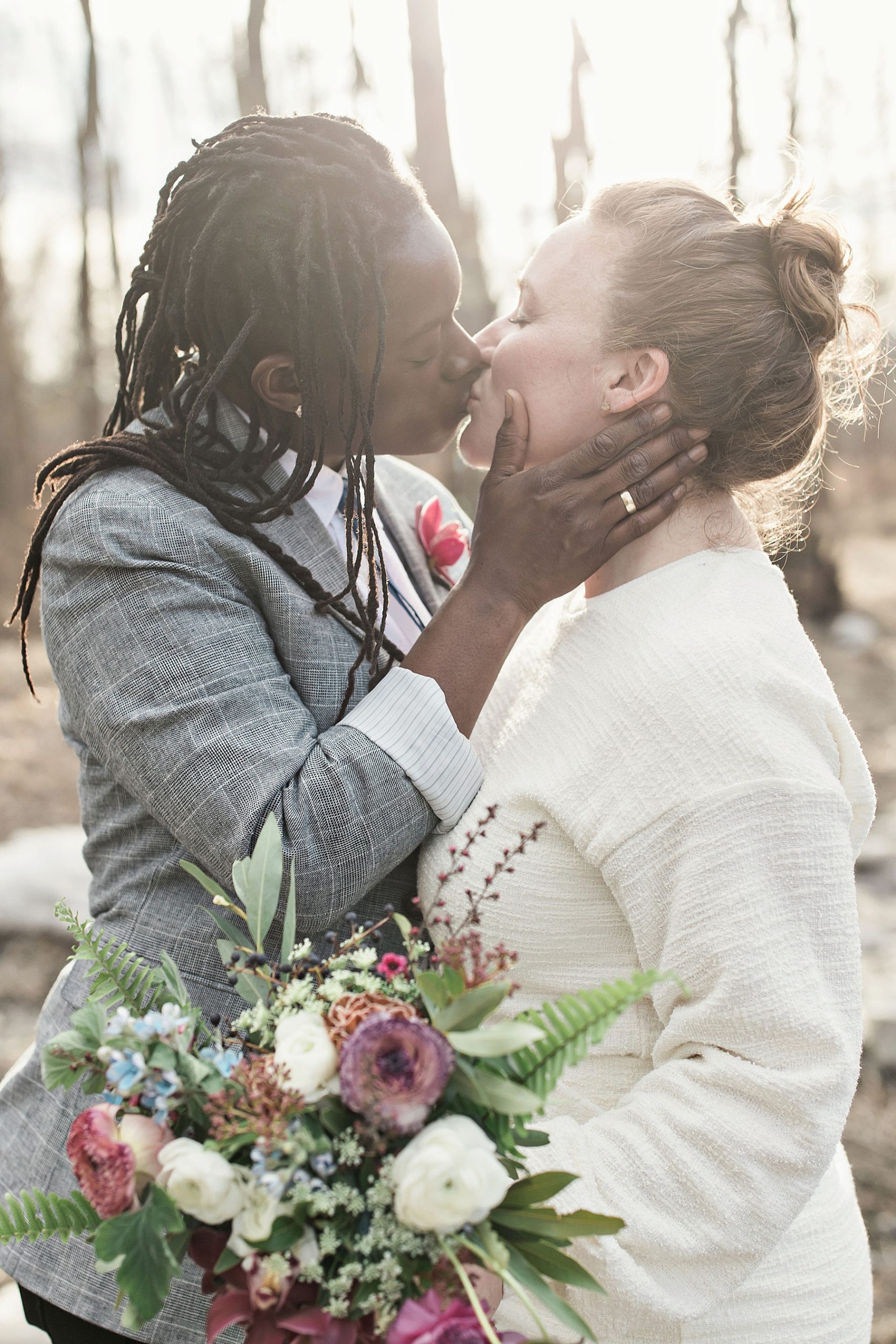 Spring can get a bad rep here in the Hudson Valley, but there is something extra special about the sunset in March. The way the sunlight shines through the bare trees can be so beautiful, especially for photos. And since it's still a bit chilly out, you usually have the forest all to yourself.
Which was the case when we headed to one of our favorite secret spots on the Wallkill River for Erica and Ka's elopement. Between the sweeping views of the river and this rustic dock, it was a perfect spot for these two to say I Do away from the crowds and noise. It was just Michele, these sweethearts, Becks, and the camera – and a couple close friends to bear witness. Just because it's a secluded elopement doesn't mean you can't bring a couple guests to share in the magic.
I think it's safe to say we had some fun with these sweethearts. Ka is magnificently expressive and full of laughter. Erica just radiates warmth and ease. It was a joy to watch these two as Michele led their ceremony. The delight on their faces after the handfasting ceremony? We can't get enough of it.
"This world is a big world — there are people who go through life never meeting, never passing the same corner. But you two first met at the Flashbush Youthmarket where a conversation about no longer in season strawberries lit the spark that brought us here today. As the story goes, Erica gave Ka her number. Ka suggested Erica come back to the market next week. Neither of you followed through. But the following week, Erica did go, along with more weeks after that, and the two of you agreed to go to dinner together about a month later.

That feeling you both had when you were talking at the market was the catalyst that brought us here today. That's the beauty of all moments — big and small. All moments in this life are important and they can be monumental and life changing. Erica and Ka recognized this moment as one that launched their love."
Looking back at these photos reminds us that we kicked off a year of fantastic Hudson Valley elopements in the best way. Laughing and witnessing wild, beautiful love in a wild, beautiful place.
**PS: Bring champagne to your elopement! Nothing says celebrate like cracking open a bottle of bubbly. Plus, you're already outside – so there's no mess!