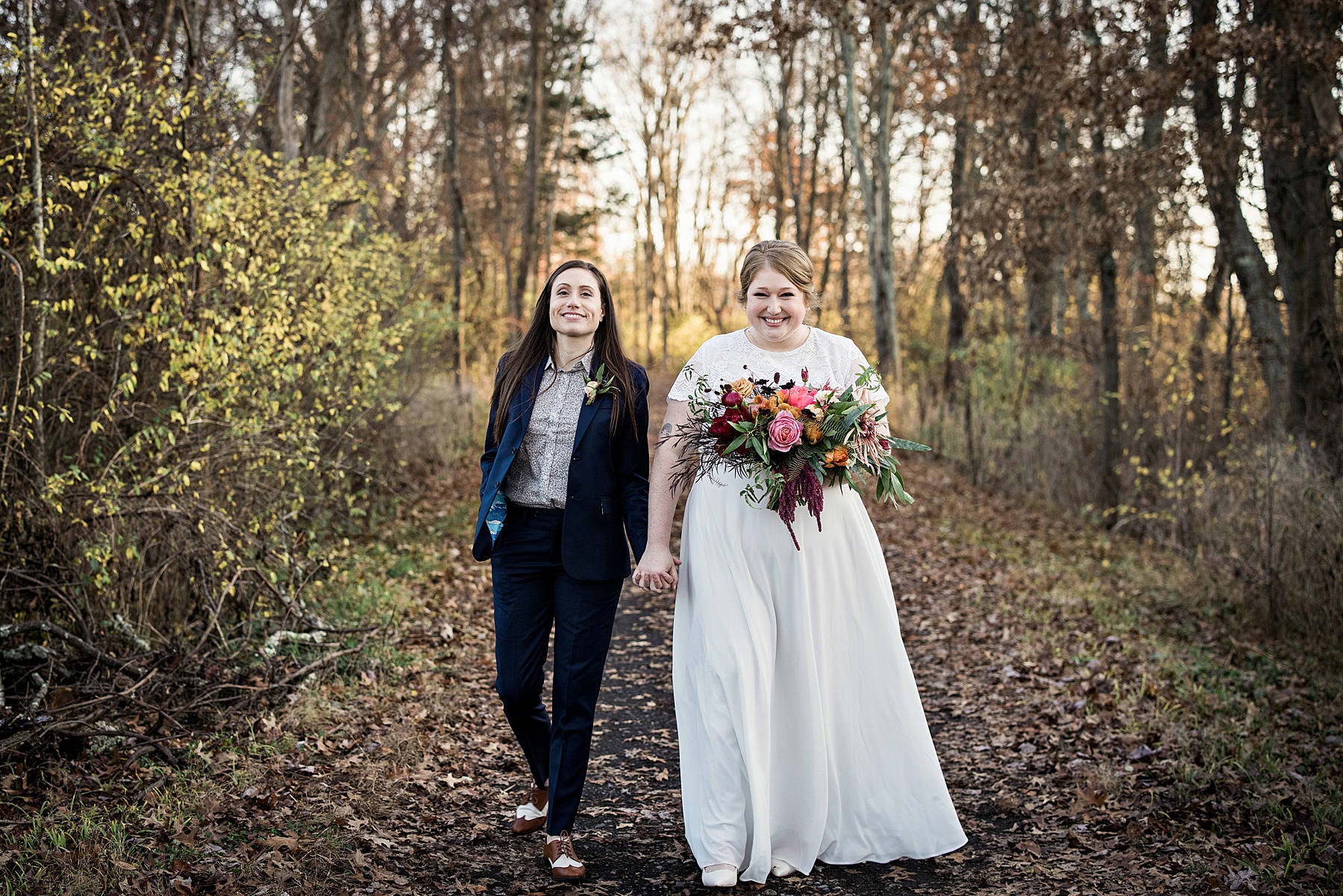 On a sunny November evening, Michele and Becks headed to one of our favorite spots just outside of New Paltz: Coppersea Distilling. Hannah and Stella had gotten in touch about wanting to elope upstate in the picturesque mountains of the Hudson Valley, and of course, we knew just the place. Amongst the last of the fall foliage, Michele officiated their ceremony while Becks looked on with her lens. 
Hannah and Stella's love was built on good communication, a shared sense of humor, and Stella's love of adventure and desire to have Hannah there with her; so a lowkey adventure upstate was a perfect way to celebrate their marriage. Michele blessed their space with sage while their rings were charged with love in a crystal grid. The ceremony shared details from their love story and their own words about the bond they share. 
"When I asked Hannah about the things she loves most about you, Stella, she said you are the best adventure buddy, she adores how you look at the world like it's yours to be explored; she loves that you want to take her with you. Your imagination is so vivid; your outlook, consistently positive, filled with wonder, uncorrupted by cynicism. Hannah also thinks that you are the funniest person ever."

"When I asked Stella about the things she loves most about you, Hannah, she shared that she loves your sense of humor. She loves how you are so different from her and yet also the same in many ways. Hannah, Stella loves how you are so fiercely loving, and she loves that she gets to experience your love."
As the sun set, Hannah and Stella exchanged their own vows and rings, and finally, they were married! Aside from the glorious view, our favorite thing about eloping at Coppersea is the complimentary whiskey toast. Getting married at a distillery has its perks!
These portraits are some of our favorites from the season. We cannot believe how gorgeous Hannah and Stella looked! November in the Hudson Valley is so beautiful, especially at sunset. The late fall light and the last of the season's color were a perfect setting as these two strolled and posed. If we had a glass of whiskey, we'd be raising it to these two right now. Cheers Hannah and Stella!