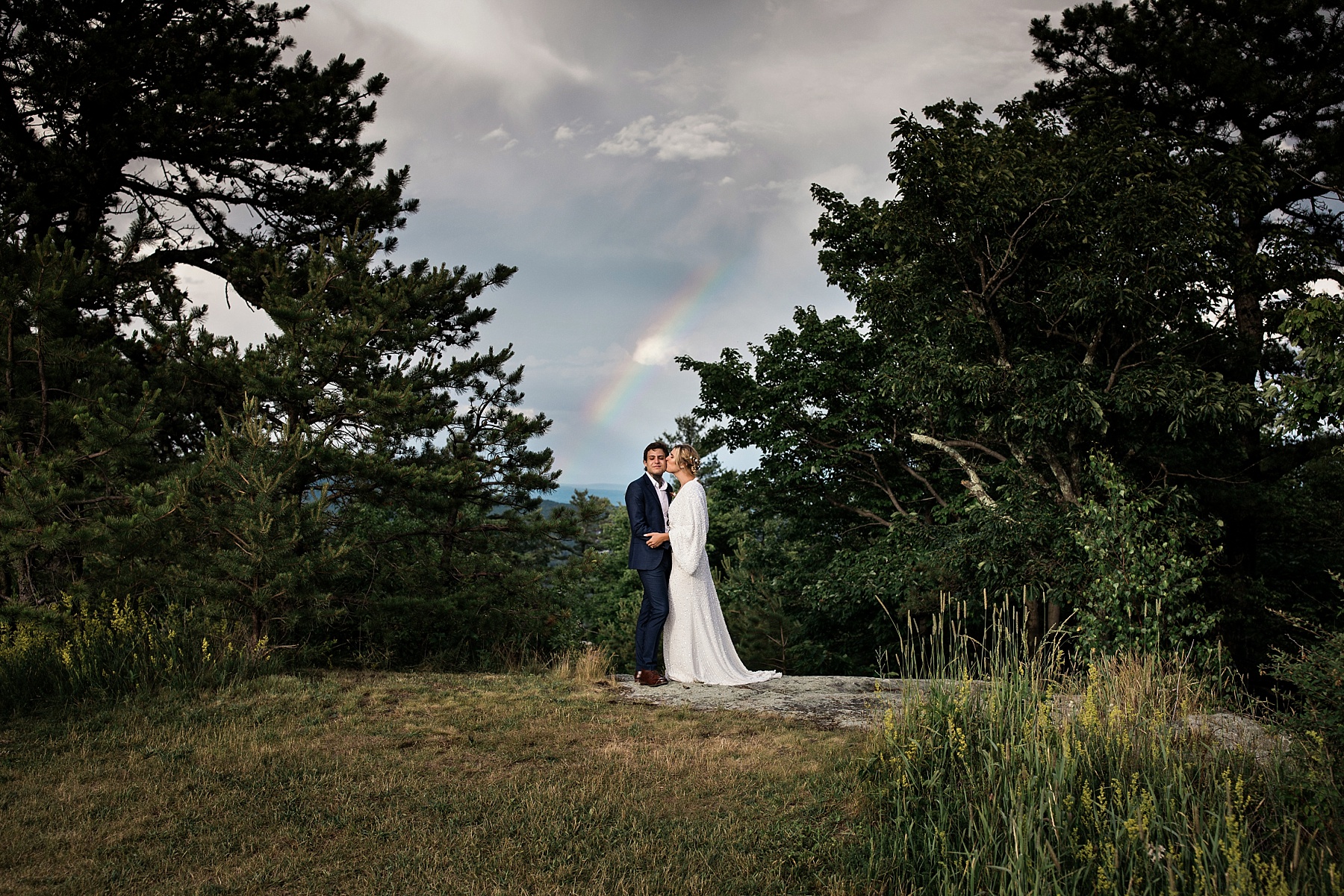 On the day of Kimberly and Alp's elopement, it poured rain. It was one of those overcast summer days that just erupts in a downpour when you least expect it. We were so nervous we'd have to reschedule, but luckily, it cleared up just in time for their ceremony and portraits at Minnewaska State Park. And all that worry over the weather was totally worth it when we were treated to the most magnificent rainbow right as we reached the top of the mountain. Serendipity? A blessing from the sky itself?
These two kept it simple for their ceremony: sweet words and vows by Michele, a sage blessing, and ring exchange. 
"When I asked Alp about the things he loves most about you, Kimberly, he shared that you have the biggest heart — he adores how you are so very forgiving, understanding, and loving. And he also loves when you do your unexpected, often weird, but very wonderful dance moves. Kimberly, Alp also shared that doing everything and anything feels better with you. 

When I asked Kimberly what she loves most about you, Alp, she shared that she loves how genuine and authentically yourself you are. She loves how you are so honest with your thoughts and feelings; she appreciates your candidness. She also loves how you make her laugh and how the two of you get into laughter fits just laying next to each other trying to go to sleep. She loves how silly and playful you are as well as your values and how you treasure your family. She admires how close you are with your mom."
But as you can see, Kimberly went all out for her bridal ensemble. The pink ombre pink veil, the shimmery glam dress, and the rainbow of jewels in her hair – a perfect look for someone as vibrant and fun as Kimberly. Alp is a little more understated, but we think he must have had some modeling experience, because look at the way this guy works the camera.
Witnessing this union, on this day in this place, was spectacular. The after-rain sunshine cast everything in a warm hazy glow; the woods were green and glorious; and the love these two share was palpable. We're so grateful to have captured it. Cheers to Kim and Alp!