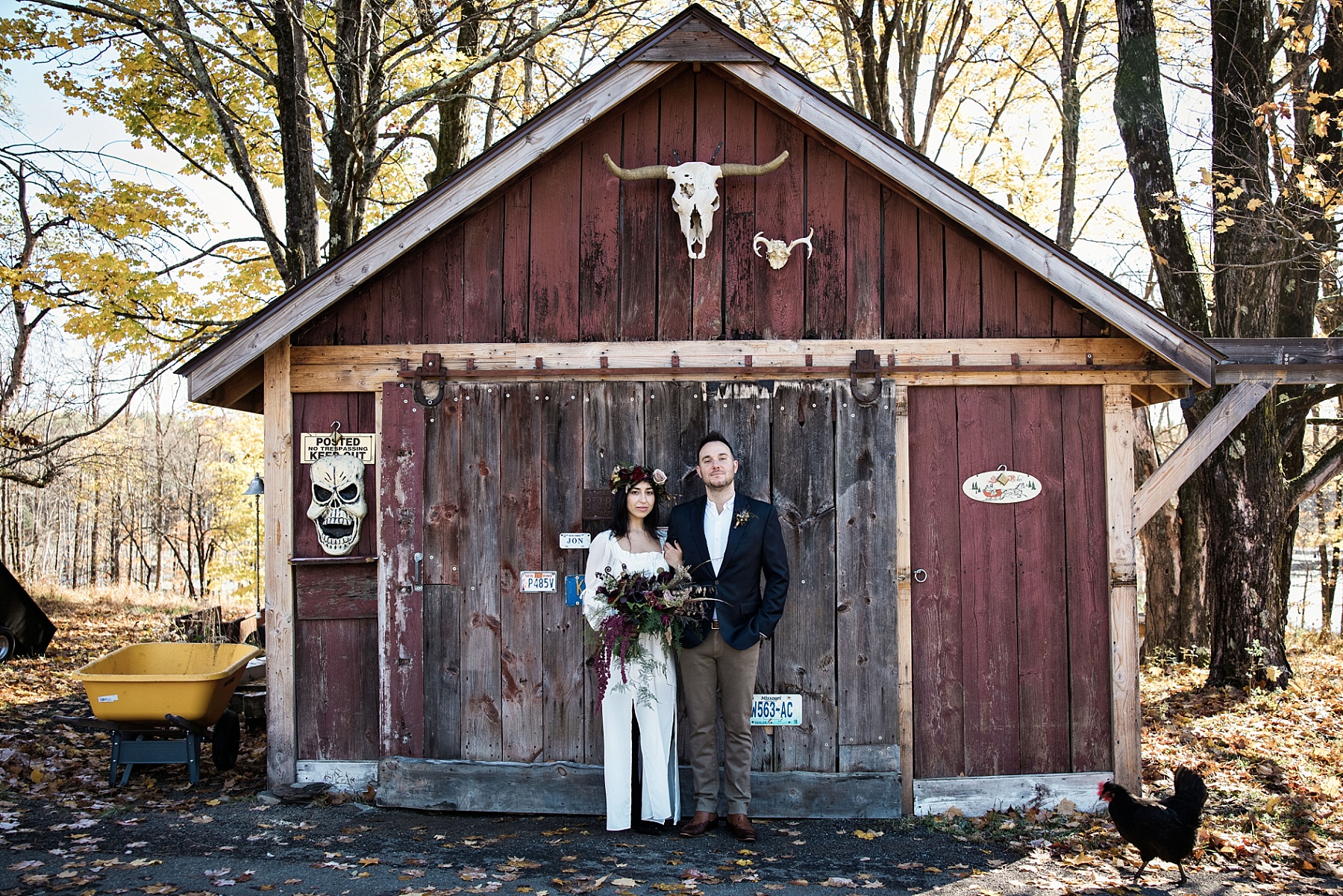 When a full moon falls on Halloween, it feels like everything is lining up just right. Michelle and Graham know a thing or two about the serendipitous circumstances that can cause everything to fall right into place. They'd recently moved upstate to Hudson; they'd become good friends with a chef who owned a super cool bed and breakfast at the foot of the Catskills, the Vlylife; and they knew they wanted to get married in an intimate, personal celebration. So on Halloween day, they met up with Becks and Michele for their elopement. 
The air was crisp, the fall foliage was at its peak, and Michelle and Graham looked incredible. Their small circle of guests and bulldog looked on as Michele officiated their ceremony, detailing the origins of their love story.
"You first laid eyes on each other on a dating app. Graham sent Michelle a message noting her beauty, but not much came out of that. Every couple of months, Graham would reach out again to try to connect. Michelle was taken with his tenacity since the two hadn't met in person yet. 

As Michelle describes it, one of the days that Graham reached out again, she was in a good mood. And so, she agreed to go on a date with him. 

Fate? The right timing? Clearly, both."
They fasted hands, sealed it with a kiss, and took their first walk together as a married couple, pausing for portraits in the warm autumn sunshine in the gorgeous landscape.
After portraits, they headed back to the Vlylife barn, where their guests were waiting to celebrate. Cobwebs and candelabras added some subtly spooky ambiance as Michelle and Graham were toasted and cut the cake. The joy in that little room was palpable and we carried it with us the rest of the day. Wishing these two many more days of things lining up just right!