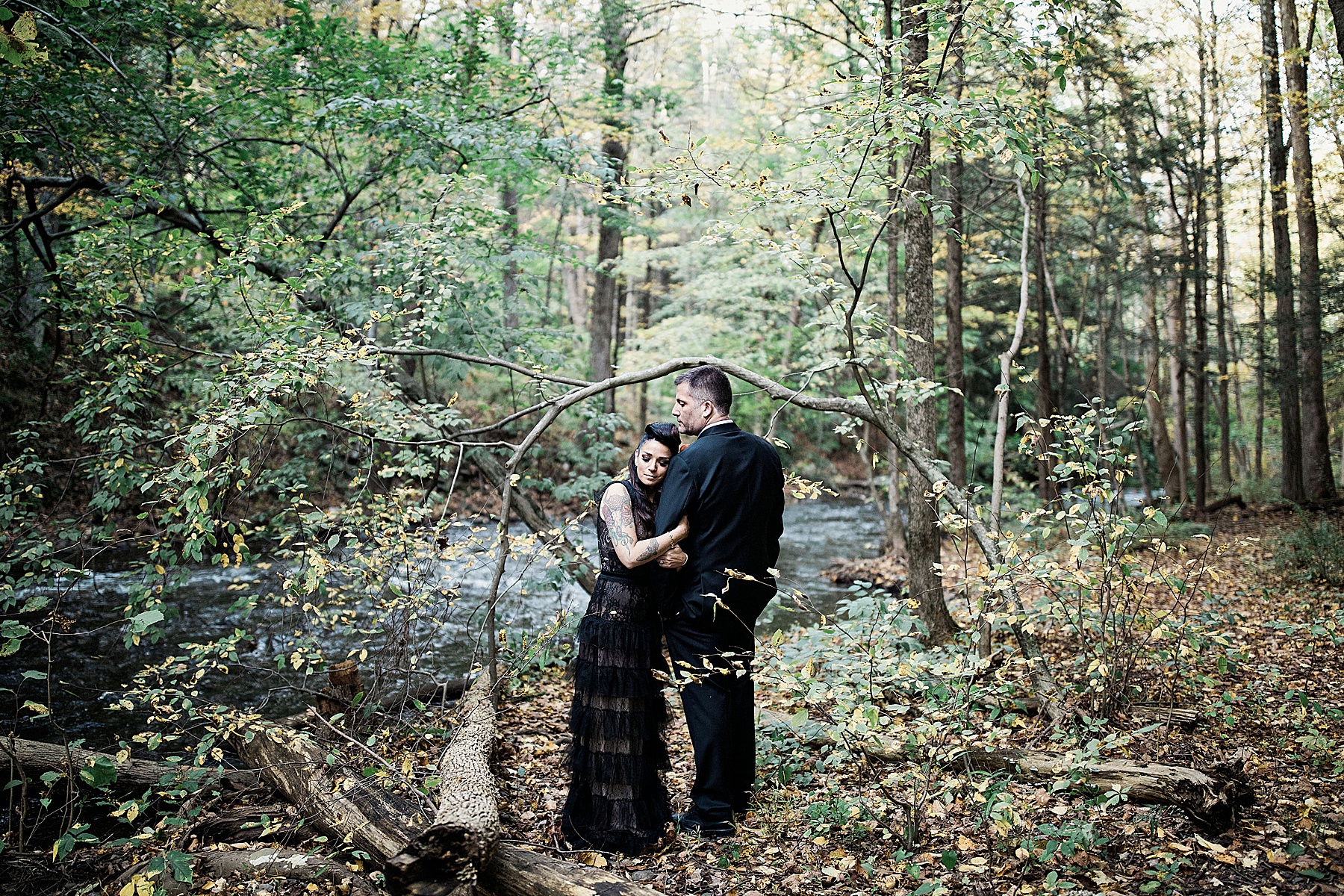 When Erika and Eric decided to make it official, they knew one thing for sure: a traditional wedding wasn't for them. They reached out to Michele, a long time friend, who had already been crafting thoughtful, personal ceremonies for couples in the Hudson Valley for a few years. When they asked about a photographer for the day, Michele suggested Becks, whom she'd always enjoyed working with. With her keen eye for beautiful portraits and a non-intrusive approach to ceremonies, Michele knew Becks would capture the day as it unfolded organically. Thus, the idea for Hudson Valley Elope was born.
Black Creek is a Hudson Valley Elope favorite; from the wooden suspension bridge to the creek to the forested hillside and rocky outcroppings, it perfectly blends all of the iconic scenery of the Hudson Valley. Even in the summer, it's gorgeous. But heading there in October is a whole different experience. The bright yellows mix with the rich browns and lingering greens to make an autumnal rainbow. Black Creek on a sunny day in the fall is a dream. 
Erika and Eric chose this special place at this time for their vows. This is a day they'll remember always, and capturing the day through our lenses in such a picturesque spot was so rewarding. Erika looked like a total rockstar in her black lace dress and we're still obsessed. With a few friends present, Michele guided these two through vows and handfasting. She also incorporated crystals and botanicals, creating a beautiful altar, and as usual, left the couple with a book containing their ceremony and vows. It's one of the best parts of working with Michele. 
After the knot was tied and the ceremony was sealed with a kiss, Becks took over to take the newlyweds down by the creek for portraits. Becks' theory of portraits is pretty simple: the less the couple feels like they're being photographed, the better. She's happy to pose and guide, but the best photos are the genuine moments of laughter, peace, and love. And we love how much you can feel that through Erika and Eric's photos.
We're so fortunate to have had this opportunity to work with this stellar couple and have their union lead to the creation of this project. Cheers to Erika and Eric, and thanks for being our first Hudson Valley Elope couple!