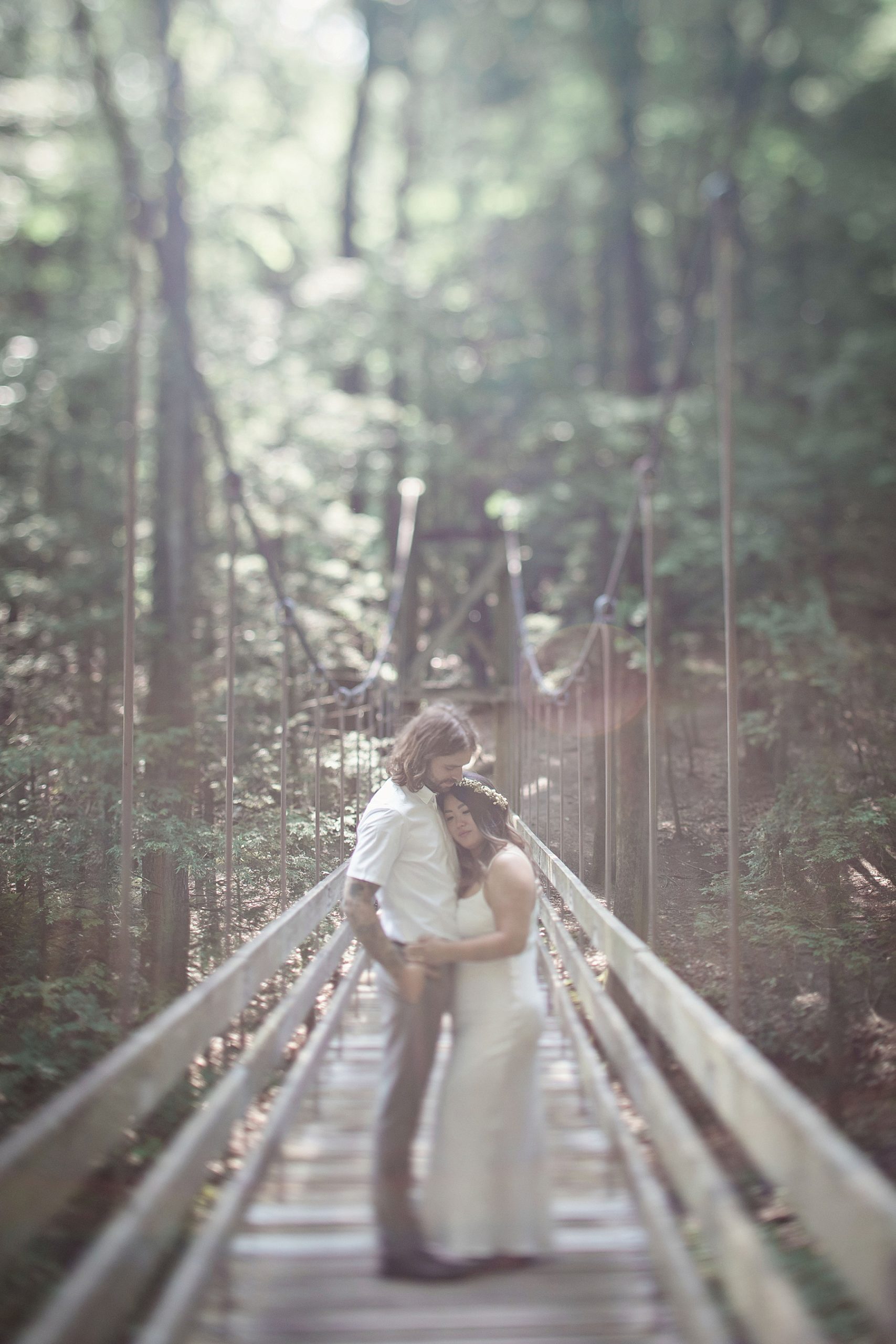 Black Creek Preserve is one of my favorite spots in the Hudson Valley. Situated right between New Paltz and Kingston, the preserve stretches all the way to the Hudson River and features some seriously gorgeous hiking. But my favorite part is right as you enter the preserve when you cross on the Black Creek on a wooden suspension bridge. It's like a magical gateway to an enchanted forest. If you're in the Hudson Valley, you have to see it.
It's also where the original idea for Hudson Valley Elope was born after I worked with Michele on Erika and Eric's elopement on a gorgeous fall day. But being back in the summer is a totally different experience, so we were delighted when Jesse and Katie told us they wanted to elope there in June.
On the banks of the creek, Michele set up the altar and guided these two through their sweet vows, ring warming, and handfasting ceremony.
"Katie Lynn, when I asked Jesse about the things he loves about you, he told me that he loves how open minded you are and your willingness to understand other people's emotions. He also loves your super, easy going view on most things, and your ability to be low stress. Jesse loves that you teach him about himself, so he can be better for others."

"Jesse, Katie said that she loves that she can trust you completely. She loves your thoughtfulness, and how though you seem to be tough on the outside, you are so incredibly caring and understanding. Katie also adores your silliness and playfulness, and how you are always able to make her laugh and smile."
Getting to explore the forest along the creek with them after was like something from a storybook. The way the sunshine filtered through the leaves on these two while they basked in that newlywed bliss made for such ethereal scenes. We're so grateful to have captured all this love and sunshine. Cheers to Katie and Jesse!