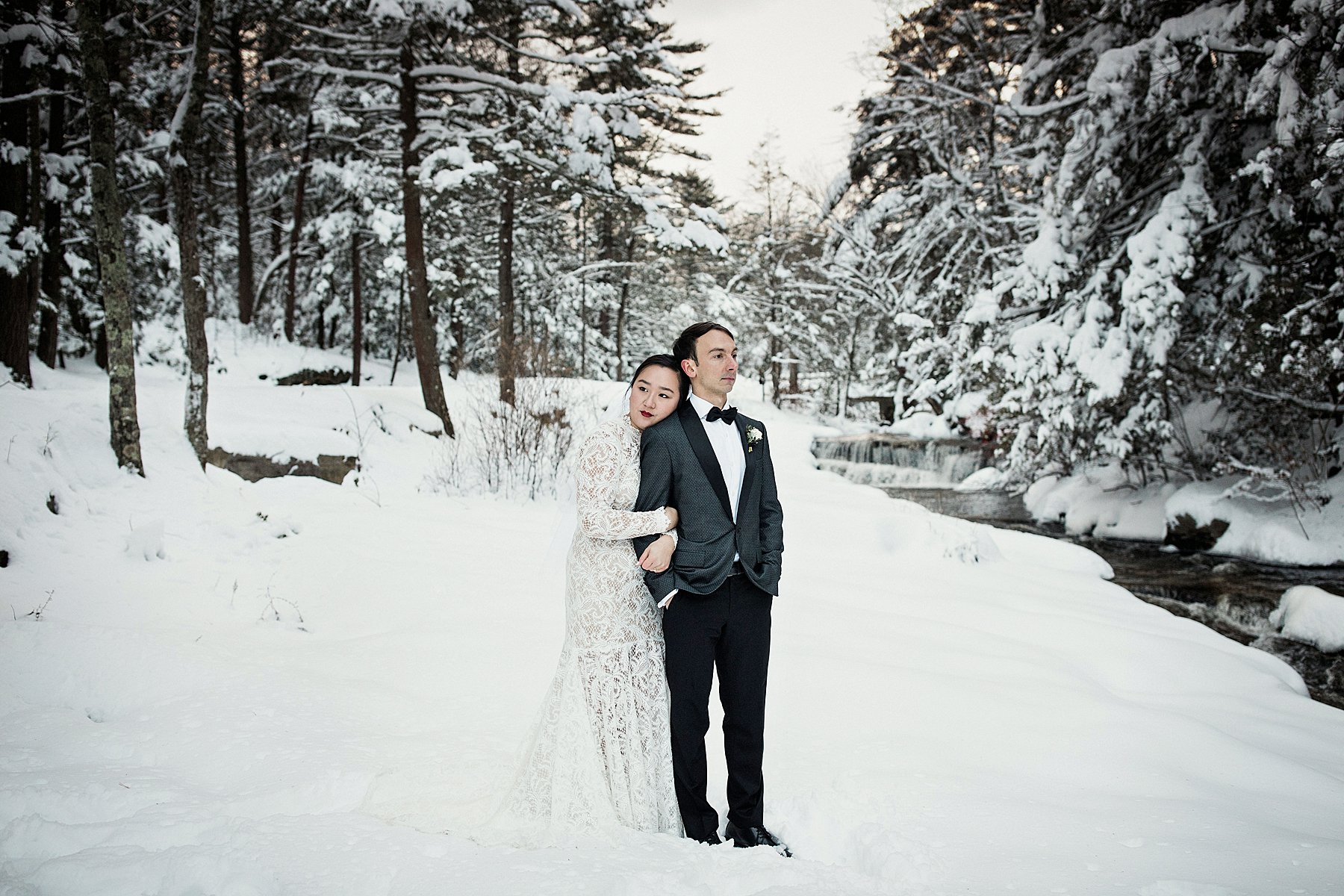 One of the most amazing things about the Hudson Valley is how quickly the landscape can change in a matter of days. We captured the last of autumn's splendor with Leslie + Hayden's elopement and just five days later, caught the first magical snow of winter with Joey + Jamie! Minnewaska State Park is renowned for its fall colors, but it's secretly also one of the most beautiful places to visit in the winter.
Jamie and Joey met on a cool December night when Jamie tripped and fell into Joey's arms. So naturally, they decided to tie the knot on their anniversary! I met up with Jamie at the Hasbrouck House while she was finishing getting ready. It's one of our favorite spots in the Hudson Valley – a delicious restaurant and romantic boutique hotel with plenty of cozy corners perfect for portraits. We took full advantage of the warm shooting location after Joey joined us for the first look. We'd be remiss if we didn't also point out Jamie's wildly beautiful winter bouquet by another local we love, Hops Petunia!
Sufficiently warmed up, we all made our way to Minnewaska State Park. Michele led us through their story on the banks of the stream that feeds Awosting Falls, from their immediate connection through their many adventures up to this moment. The snow-covered trees and icicles were the perfect backdrop to their vows and their handfasting ceremony.
"Handfasting is an old and beautiful ritual used in weddings — and it's where the phrase "to tie the knot" comes from. There are two strands of cording — one for Jamie and one for Joey. Each cording is made of three braided strands to represent your past, present, and future.

These are the hands that will show you love, passion, hope, comfort, and joy. These are the hands that will support you and encourage you. Bless these hands, give them the strength to hold on during times of stress, keep them tender and gentle. Your hands are healers and protectors, they are each other's shelter and guide."
We love a good winter shoot, but these photos of Jamie and Joey after the knot was (quite literally) tied are totally next level. Their love and laughter were infectious even with chilly feet and hands. It may not be for every couple, but we totally recommend a winter elopement!